InZone (Ages 6-14) and Teens
Age is no limit to having fun and learning at Harper CE.
InZone program response to the COVID-19 pandemic: In addressing the safety of the public, Harper College has determined it will not be offering any in person classes on campus during the summer semester.
InZone is the Harper College enrichment and sports camp for ages 6 to 14. InZone fills your summer with fun and learning. The passionate instructors that teach for InZone developed exciting online programs that provide children with new learning opportunities rooted in the traditional InZone program philosophy of learning while doing, interacting in a safe comfortable virtual setting.
Click here to view the InZone July and August 2020 Classes. There are multiple scheduling structures available for online classes. Please review to better understand the timing of specific programs. Questions can be sent to inzone@harpercollege.edu
Students enrolled in classes originally developed as an in-person class will automatically be transferred into the online version scheduled over the same dates. Not all classes will translate to the online environment and will be refunded. Not interested in online learning? Login to your child's account by clicking the login tab in the upper right corner of this page. Go to existing schedule for the student and drop them from the classes you would like to a receive a refund for. Email ce@harpercollege.edu for assistance.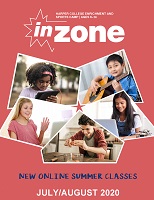 View InZone July/August Catalog
View InZone July/August Course List
Note: course information in our catalog is subject to change. Please check classes online for the latest course information.
QUESTIONS: For questions regarding the registration process, please call Continuing Education registration desk at 847-925-6300 between 8:30 a.m.-4:30 p.m. Monday-Friday or email us at ce@harpercollege.edu.
Required fields are indicated by .