---
InZone is the Harper College enrichment and sports camp for ages 6 to 14. InZone fills your summer with fun and learning. The passionate instructors that teach for InZone developed exciting programs that provide children with new learning opportunities rooted in the traditional InZone program philosophy of learning while doing, interacting in a safe comfortable setting.
Subscribe to our newsletter to be the first to know about InZone news and updates.

June 5-August 11, 2023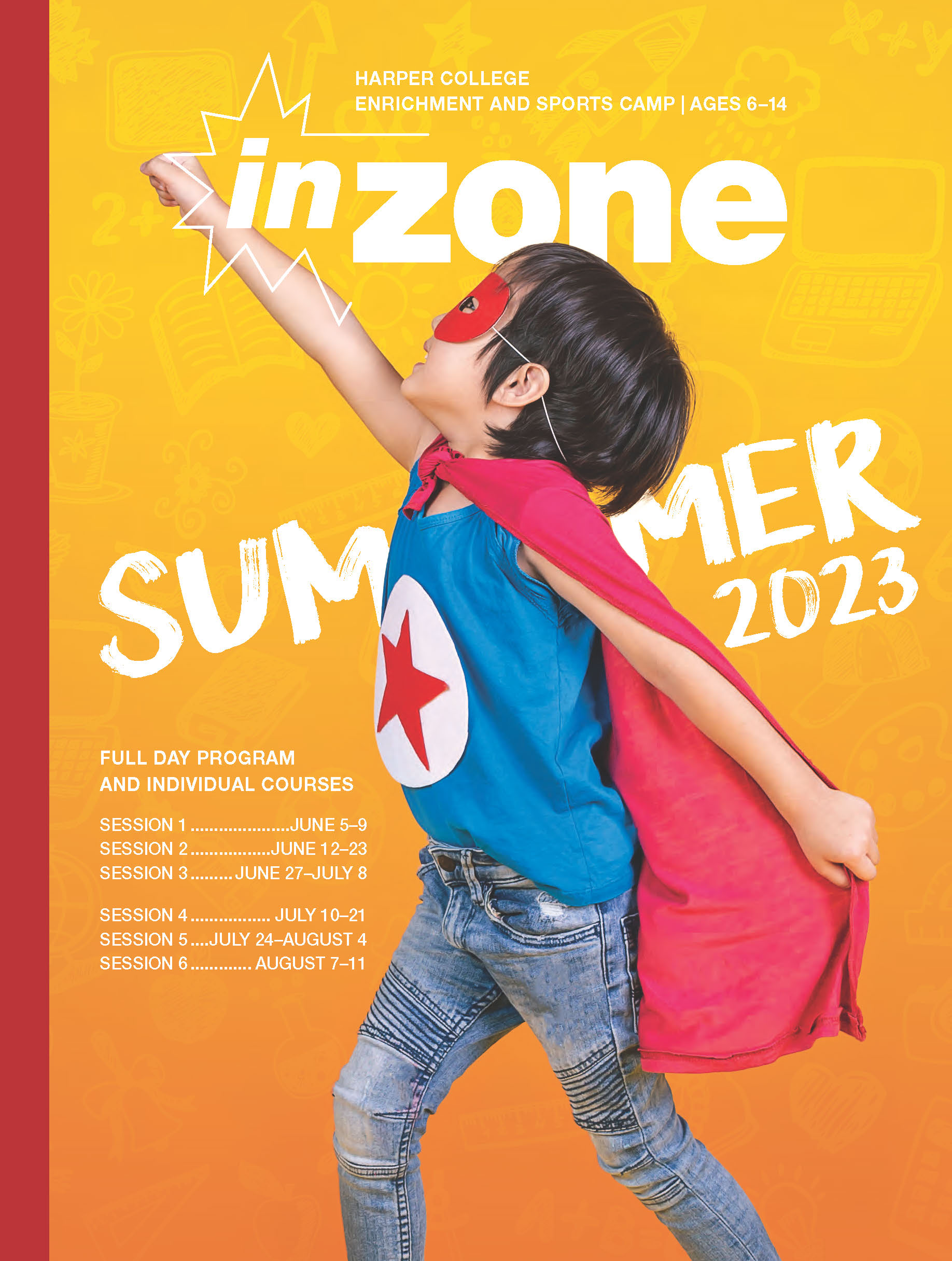 Summer Brochure
---
We offer a variety of opportunities for children and teens to have fun and learn music.

Ages 1-7:
Ages 8 to 17:
---
Check our listing of courses for ages 14-18 including ACT/SAT test prep, debate camp, and more.
---
Questions:
We're Ready to Assist You
Available Monday through Friday, 8:30 am - 4:30 pm
Chat: ce.harpercollege.edu
Email: inzone@harpercollege.edu
Phone: 847.925.6300
For questions regarding the registration process, please call Community Education registration desk at 847-925-6300 between 8:30 a.m.-4:30 p.m. Monday-Friday or email us at ce@harpercollege.edu.
Required fields are indicated by .
Make every day count. Discover your passions. Advance your career. Play and learn.
I started a new job as a graphic and web designer and the digital badge I got was part of the reason they chose to hire me. I couldn't have done it without you!
Laura U.Web Maintenance and Design Digital BadgeJennie Johns, Instructor
David is a truly amazing teacher who makes learning the harmonica lots of fun. His enthusiasm is contagious and he has a heart of gold.
Richard E. Blues Harmonica David Kachalon, Instructor
The Writing Salon was so much more than a writing class. The experience was energetic, enthusiastic and supportive. I highly recommend this class for anyone who wants to develop their skills as a writer!
Kristine T. Writing Salon Laura Ehrke, Instrutor
As always, your Spanish classes are packed with new information about the language. You make it easy to learn Spanish and keep it very interesting. Thank you!
Surrinder P. Conversational Spanish III Rene Castellanos, Instructor
I have participated in many LLI classes over the past two years. Gary is a terrific discussion facilitator and brings excellent background knowledge to our classes. I'm learning so much about Foreign Policy.
Barbara C. Foreign Policy Roundtable Gary Midkiff, Instructor
Just want to let you know how much I enjoyed your class. Hope you will have more classes since I am a novice in the wine area and am anxious to learn.
Taimi W. Wine and Cheese Pairings Marcel Flori, Instructor