Hello Summer, Hello InZone!
InZone is…
Safe
We are committed to ensuring your child's safety. All instructors and staff working directly with campers have passed a statewide criminal background check. Our student to adult ratio is 8:1. We will know your child, and he or she will know us.
Because scrapes, bumps, and bruises happen when kids play and upset stomachs and dizziness occur in the heat, InZone also has a professional nurse on site to tend to all campers.
Unique
With both enrichment and sports, our morning campers can learn about the physics that will guide their afternoon basketball through the hoop. Nothing but net, baby!
Flexible and Full of Options
InZone offers a summer jam-packed with fun. Explore, create, run, discover, jump, experience. Pick from a variety of courses, including basketball, outdoor adventure, sewing, three-dimensional painting, website design, rocket building, writing and photography. It's your choice!
Classes are offered: Monday – Friday, 9 a.m. – 4:10 p.m. (See session dates below)
Before and After Care is available: 7 a.m. – 6 p.m.
Lunch Options include: a prepaid meal plan, brown bag or buy your own. Registration required.
Come for one class, one session or the whole summer. Combine classes for a half-day or full-day of activities. Our Before and After Care gives you options to do what works best for your family.
Kid-friendly Fun
It's camp. How much more kid-friendly can you get? Relax, enjoy summer, have fun and meet new friends!
SUMMER 2020
SESSION 1.....................JUNE 8-12 SESSION 4.................... JULY 13-24
SESSION 2.................... JUNE 15-26 SESSION 5.....................JULY 27-AUGUST 7
SESSION 3.....................JUNE 29-JULY 10 SESSION 6.....................AUGUST 10-14

JUNIOR EXPLORERS CAMP—Ages 6-8: Hands-on exploration and play, structured around science, technology and art. Click here for more information.

FIND CLASSES / REGISTER: View the InZone classes in the categories below for class information and registration. If you don't already have an account set up, you will need to create one using your child's email address (see note below) by following the instructions online.
Note: Each child that participates in the InZone program will need to have his/her own unique email address. This email address will become the user name for your child and will be used for any programs when registering through the Continuing Education department. If your child does not have his/her own email address, you can create one at such providers as gmail.com or yahoo.com. If you have multiple children in the program each child will need his/her own specific email address.
QUESTIONS: For questions regarding the registration process, please call Continuing Education registration desk at 847-925-6300 between 8:30 a.m.-4:30 p.m. Monday-Friday or email us at ce@harpercollege.edu.
INZONE WAIVER: All campers must have a signed release form returned to InZone prior to the start date of a class in order to participate. Prior to the beginning of camp, all InZone registrants will receive emailed release waivers to complete, sign and return electronically. For questions about waivers, please email inzone@harpercollege.edu or call 847.925.6300.
Register for an InZone or InZone Junior Explorers Tour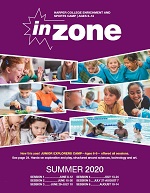 View InZone 2020 Catalog View InZone 2020 Planning Guide and Worksheet
View Things Parents Should Know
View the 2019 InZone Welcome packet. (2020 version coming soon)
Note: course information in our printed catalog is subject to change. Please check classes online for the latest course information.
Required fields are indicated by .