LEI0003
-
Drawing Studio
202868
Delivery Options
SEL-Online Self-paced
Course Description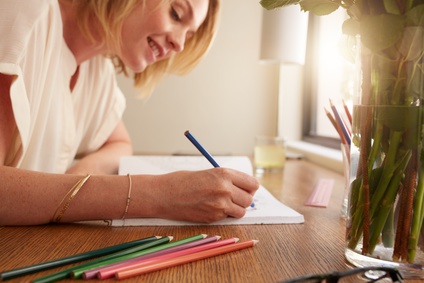 Develop your skills through ongoing interaction with our expert instructor. If you have completed Drawing for Beginners or have the equivalent experience, you will enjoy a greater emphasis on rendering and producing a finished piece of work. The class will combine individualized attention with structured lessons that will help you to build and refine your fundamental skills, particularly in the area of human anatomy. Additional tools, including colored pencil, ink, pastel and charcoal also will be introduced.
Prerequisites
LEI0002 - DRAWING 101: BEGINNING
To be exempt from any of these prerequisites, please submit samples of your work or portfolio to iboulos@harpercollege.edu for consideration. You may also mail the samples along with a letter to:
Issa Boulos
Coordinator, Community Music and Arts Center
Harper College, Continuing Education
1200 West Algonquin Road (Room C216)
Palatine, IL 60067
Testimonials
Nonna is excellent. She has the talent and knowledge to help me improve my art work. Nancy Brower
I enjoyed the class very much. I began the class not knowing how to draw, but now I can see what progress I have made. I very much enjoy the pleasant atmosphere. I find it very relaxing. Nonna is excellent and very knowledgeable. Freda Lazar
Nonna is enthusiastic and has a trained eye to spot problems and suggests corrections as well as demonstrates personally. She changes up the session with spotlights on artists and books and how they relate to subject matter. Jeannie Lachen
I was very intimidated by trying out drawing for the first time, but under Nonna's instruction, I found out that I really enjoy it. I strongly recommend this class to anyone interested in trying a new art class or needs a refresher of the basics. Melissa Gauron
I learned many detailed skills and techniques. I was pleased with progression and final results. Neil Unverzagt
Nonna works individually with students after general instruction. Great! Barbara Royce
Instructors
Enroll Now - Select a section to enroll in
Required fields are indicated by .
Make every day count. Discover your passions. Advance your career. Play and learn.
I started a new job as a graphic and web designer and the digital badge I got was part of the reason they chose to hire me. I couldn't have done it without you!
Laura U.Web Maintenance and Design Digital BadgeJennie Johns, Instructor
David is a truly amazing teacher who makes learning the harmonica lots of fun. His enthusiasm is contagious and he has a heart of gold.
Richard E. Blues Harmonica David Kachalon, Instructor
The Writing Salon was so much more than a writing class. The experience was energetic, enthusiastic and supportive. I highly recommend this class for anyone who wants to develop their skills as a writer!
Kristine T. Writing Salon Laura Ehrke, Instrutor
As always, your Spanish classes are packed with new information about the language. You make it easy to learn Spanish and keep it very interesting. Thank you!
Surrinder P. Conversational Spanish III Rene Castellanos, Instructor
I have participated in many LLI classes over the past two years. Gary is a terrific discussion facilitator and brings excellent background knowledge to our classes. I'm learning so much about Foreign Policy.
Barbara C. Foreign Policy Roundtable Gary Midkiff, Instructor
Just want to let you know how much I enjoyed your class. Hope you will have more classes since I am a novice in the wine area and am anxious to learn.
Taimi W. Wine and Cheese Pairings Marcel Flori, Instructor