LLI0130
-
Environmental Issues: What We are Learning from Yellowstone National Park
838519
Delivery Options
WEB-Online (Live Meetings w/ No campus attendance)
Course Description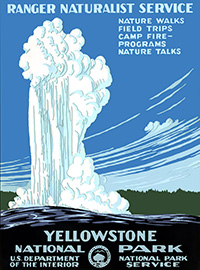 Americans can take pride in the initiation of the national park concept. Since it's legal beginnings with the introduction of Yellowstone National Park in 1872, Americans have had to deal with issues that have become a national concern and triggered ongoing political conversation with regards to wildlife management. Conservation and recreation have often come into conflict. We will discuss the history and the current state of key issues that we are working through and learning about in our nation's first national park.
Notes
MEMBERS PAY HALF PRICE
Testimonials
"Some friends and I attended the Yellowstone National Park class led by Suzanne Rausch; it was wonderful! I really enjoyed her enthusiasm for the subject and her engaging presentation style. The mix of information slides and videos really added to my knowledge base, and made me want to leave today to visit Yellowstone!" Barbara Condon
"I highly recommend Suzanne Rausch. Our class had but four students, but Suzanne gave 100%!" Bob Basofin
Enroll Now - Select a section to enroll in
Required fields are indicated by .