LEI0025
-
West Coast Swing Dance
202956
Delivery Options
LEC-Lecture
Course Description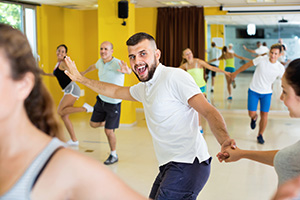 This beginner course will take you through the basic 6 and 8 beat patterns of West Coast Swing. It's easy to learn dance especially through our casual approach to Swing dancing. The main goal of this course is to teach you enough about patterns and technique which will allow you to dance more towards the tempo and tone of each song.
West Coast Swing is one of the fastest-growing dance genres in the world! It has been featured on So You Think You Can Dance, Dancing With the Stars, 30 Seconds to Fame, Star Search and is danced to most types of music including Blues, R&B, and top 40. You have the choice to dance an entire song with familiar or unfamiliar partners while incorporating all the fundamentals. Diane Smith ( the instructor) has been dancing West Coast Swing for over 18 years and currently competes nationally. The class is open to adults and older teens of any skill level and no experience is necessary although prior dance experience helps. This class is open to singles and couples.
The course will include exercises for dance West Coast Swing: Better Turns, Triple Steps and Triple Variations, Rib Cage Isolations, Footwork.
Related Course Recommendations
Testimonials
"Very good class. Diane points out little details to fine tune our dancing." Joan Mundstock
"Great instructor, brings a lot of experience to the class. Starts with the basics for beginners but also has time to assist more experienced dancers with style and improvements." Dayton Dailey
Instructors
Enroll Now - Select a section to enroll in
Required fields are indicated by .