LCP0001
-
Healthcare Provider CPR Renewal
202587
Course Description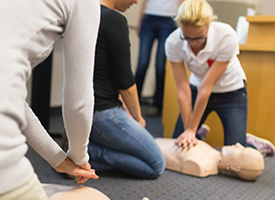 Renew your CPR certification in this American Heart Association (AHA) BLS for Healthcare Providers Renewal course. You will review cardiovascular health; basic life support techniques for choking victims; rescue breathing; CPR; and the use of an AED. Participants must demonstrate CPR and AED competencies for adult, child, and infant victims and pass a written exam.
PREREQUISITE
: Bring your
current
AHA BLS for Healthcare Providers card to class.
Prerequisites
To enroll in the renewal class you must have a current (not expired) AHA BLS for Heathcare Providers card and bring it to class.
Required fields are indicated by .