LAH0005
-
Basic Orientation for Activity Directors
202338
Delivery Options
WEB-Online - No campus attendance
Course Description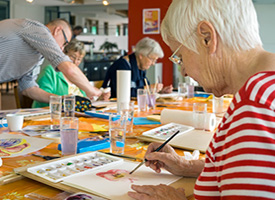 Successfully completing this blended course meets the 36-hour IDPH requirement for Activity Directors, Activity Aides/Assistants, and others involved with long-term care. This course also teaches participants to develop unique programming to meet the recreational needs of Alzheimer's patients. Students attend class on campus three days and complete online coursework off campus three days. A discount is available for organizations sending two or more employees. Includes all materials.
Notes
This course is held at Harper's Learning and Career Center in Prospect Heights.
Enroll Now - Select a section to enroll in
Required fields are indicated by .