Info Sessions
Harper Community Education Career and Technical Training
Learn more about what Harper Community Education has to offer to help you enhance your career and professional/technical skills! Click here to RSVP to the live online virtual Information Session Date: Wednesday, 8/19 at 6 pm or set up a one on one virtual guidance appointment with a Harper CE Representative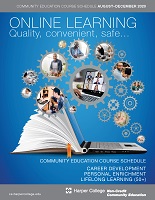 Announcements
Coronavirus Update: Continuing Education Classes at Harper College
On March 12, Harper College announced a response to the Coronavirus (COVID-19) pandemic.
Here is what you should know:
Please continue to visit the Harper College Advisory webpage for information on prevention, resources and actions you can take related to COVID-19.
Highlights
InZone program response to the COVID-19 pandemic: In addressing the safety of the public, Harper College has determined it will not be offering any in person classes on campus during the summer semester. The passionate instructors that teach for InZone developed exciting online programs that provide children with new learning opportunities rooted in the traditional InZone program philosophy of learning while doing, interacting in a safe comfortable virtual setting. Click here to view the InZone July and August 2020 Catalog or visit our InZone home page for more information.Questions can be sent to inzone@harpercollege.edu
Required fields are indicated by .