Info Sessions
On-campus information sessions (and all on-campus events) are cancelled until further notice.
Continuing Education employees, like the rest of the college, are practicing social distancing. There will not be staff on campus during this period, however, online registration will continue. During this time you may email specific questions to ce@harpercollege.edu .
Announcements
Coronavirus Update: Continuing Education Classes at Harper College
On March 12, Harper College announced a response to the Coronavirus (COVID-19) pandemic.
Here is what you should know:
Visit our Student FAQ page at: harpercollegece.com/studentfaq/
Adult CE summer classes will be held online. The summer online catalog is now available.

All motorcycle safety classes have been cancelled through June 30. Classes at the College of Lake County have been cancelled through early July. Please be aware that the Motorcycle Program has had to cancel 3,000+ registered students. This has created a huge number of refund requests for the business office to individually process, so refunds may take several weeks to complete. We appreciate your patience while you wait for your refund to show on your bank/credit card account. Please direct any motorcycle-related questions to motorcycles@harpercollege.edu
Please continue to visit the Harper College Advisory webpage for information on prevention, resources and actions you can take related to COVID-19.
Highlights
Hello Summer, Hello InZone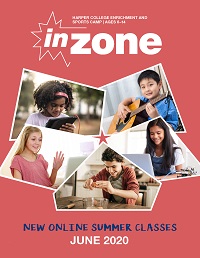 InZone COVID-19 Program Update: In response to the COVID-19 pandemic, the InZone program will be moving classes scheduled through the date of June 26 to an online format. Click here to view the June 2020 InZone catalog. We are hopeful that classes will be offered in-person on campus starting June 29 or soon after. The online schedule is currently being developed and will be available on the InZone website as soon as it is finalized. Please note that not all InZone in person classes will translate to an online format. Questions can be sent to inzone@harpercollege.edu . Stay Safe and Healthy!
Required fields are indicated by .